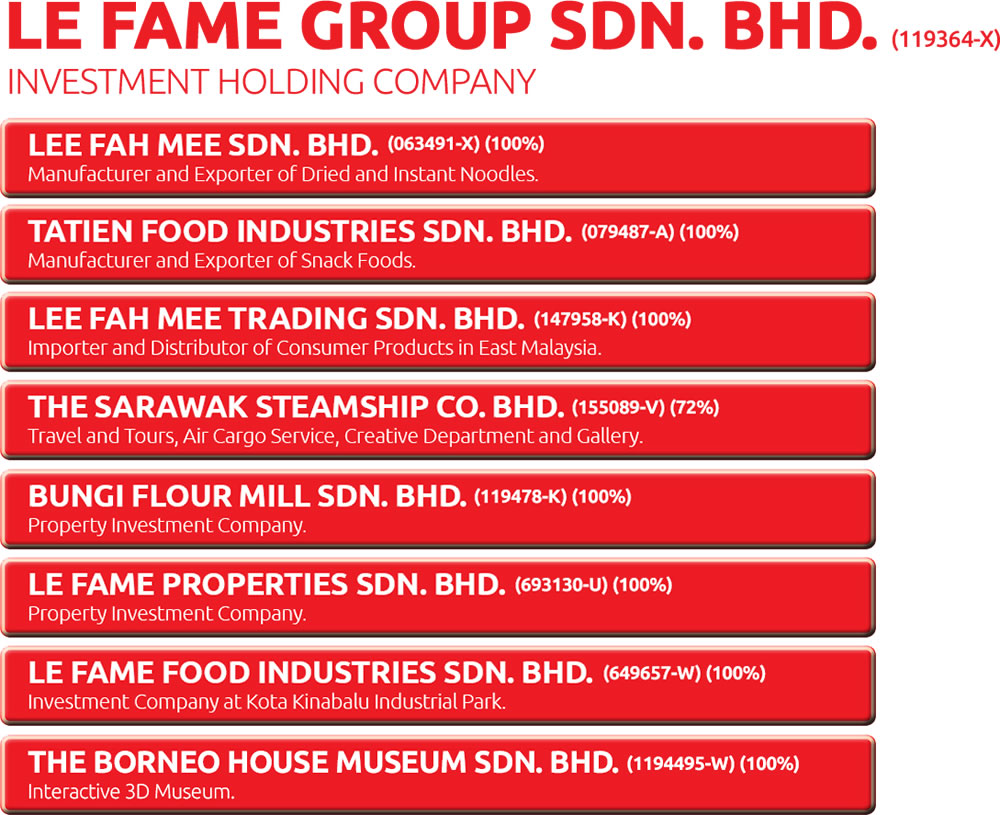 Our Philosophy
At Lee Fah Mee, we pride ourselves in giving our customers excellent value for money. We make our profit not by charging the customers high prices for our products, but manufacturing them very efficiently and selling them in large quantities.
Mutually Beneficial
We believe that a business can be successful only if it provides mutual benefits for everyone concerned. Our objective is to ensure that employees, suppliers, distributors, customers, shareholders and consumers all gain from their association with our group of companies.
Production
Ever since Lee Fah Mee Group first engaged in food manufacturing, continuous efforts are made to maintain the highest standard of production process and product quality.
The plants are equipped with the most efficient machineries for food processing and packaging.
Certificates & Awards
Industries Sdn Bhd have obtained official HALAL certifications from Islamic Affairs Division of the Prime Minister's Department Malaysia since 1996.
Being an established food manufacturer for more than four decades, Lee Fah Mee Sdn Bhd achieved many awards for their excellence in product quality, management and contributions to the society.
Head Office & Factory
Jalan Semaba, Off 5th Mile Penrissen,
P. O. Box 373, 93706 Kuching, Sarawak, Malaysia.
Tel: +(60)82-451121 (General)
Fax: +(60)82-454232, +(60)82-459799
E – Mail: info.leefahmee@gmail.com
Kuching Local Sales Outlet
225, Padungan Road,
93100 Kuching, Sarawak,
Malaysia.
Tel: 082-242806 (General)
Total Employment
Auditors
Moores Rowland
Chartered Accountants
Bankers
United Overseas Bank (Malaysia) Bhd
Malayan Banking Bhd (Maybank)
Public Bank Bhd
Hong Leong Bank Bhd
Solicitors
Reddi & Co., Advocates
H. C. Lee & Partners Advocates